MoveUnited.org
Even before the ADA was signed into law, people living with disability
—
and their families and friends
—
found ways to pursue interests in sports and the outdoors. There are many pioneers in the field, including Jim Winthers, a veteran connected to the 10th Mountain Division in WWII. He found models in Europe to help returning veterans learn to ski after losing limbs. As they say, necessity is the mother of invention, and where there's a will, there's a way...
As a former volunteer with Splor
e in the 80s
, it was great to learn from the diverse client base about their personal motivations to get outdoors and ski, raft, climb or paddle. What stuck with me was a common request from folks using wheelchairs during overnight rafting trips on the Colorado River:
I'd like watch the river for a while and be alone...
We all benefit from solitude, the sensation of wind and sun or the natural sights and sounds of water, landscape and open sky. This doesn't change for those with disabilities involving mobility, sensory or developmental issues. The other thing I learned from fellow volunteers
(
who were wheelchair users themselves)
was their value for roadless areas and wilderness
—
even when that meant they couldn't visit easily. While others might feel differently, the knowledge that those areas were preserved in a natural state was as important to them as it was to anyone else.
To get a sense of the experience of one wheelchair user running the Colorado
—
from an unintentional swim to using the camp 'groover'
—
see this piece featured on
WheelchairTraveling.com
,
Rafting the Colorado with a Wheelchair,
by John
W. Mitchell.
As we all adjust to a world with #COVID-19, guides, outfitters and others in the recreation-tourism industry are anxious to accommodate clients again safely. With more than 12% of Idaho's population living with some form of disability, that's a market share worth welcoming into your lodge, shop, cabins, boat and restaurant. As we like to remind retail, travel and tourism professionals, by welcoming people of all abilities into your business or activity, you're also welcoming their entourage...friends, family, co-workers, etc.
Idaho is a state with exceptional recreational and landscape values
—
and an economy based largely on providing access to those places. Boise's Ridge to River trail system features several wheelchair-accessible trail segments that let more folks explore the landscape, fresh air and views around the city.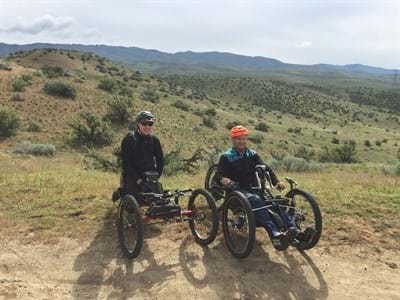 Copyright, Ridge to River
Splore is now part of the National Ability Center. One look at their program list will give anyone a sense of the potential available to both individuals and local businesses. Whether it's hunting, fishing, skiing, bird watching or boating, Idaho has much to offer.
And in some cases, outdoor recreation depends on simple policies and community support and engagement. As community members, we should all consider the landscapes we move through and pay attention to basics: trail width and surface, potential hazards from high-speed bike traffic, and designated ADA parking options and entries to trail segments considered 'accessible.' It's time to demand more inclusive planning and design of our use of the natural and built environment funded and used by the public.
We all benefit from time outdoors in many ways: physically, mentally, emotionally and spiritually. It's not a matter of altering open space to remove all risk; it's a matter of making changes that promote more inclusive exploration. As the original Splore web site puts it so well,
...there is dignity in risk-taking and that it is an inherent part of living a full and robust life.
Access Means Business, Access Means Inclusion, Access Means Adventure, Access Means Freedom
What are we waiting for?